Students dance at Neon Nights
This year's prom was a blast. Thanks to Girls' League and volunteers for the all-night preparations that brought the 'Neon Lights' theme to life. 
At Kokomo High School (KHS), prom is usually in cold November, but because of COVID-19, it was expected not to happen, breaking off the tradition for a customary school year. Gladly, prom was scheduled for May 22, a week before the end of the school year. 
Despite a hot- 80s weather day, gals and guys did not hesitate nor show mercy from crushing their closets. Selfies, pictures and waves of laughter were the evolving spirits among the students. The dance floor- the magnet- was comprised of epic dance moves and grooves from students. Amanda Pillati, a senior and international student from Albania, shared that this was her first prom, and she loved the decorations. "We have high school dances in South Sudan, but this is a very different experience. It is very far from what I expected. It is amazing!" senior Emmanuel Mayol Garang added. 
The major highlight was revealing the prom king and queen that are voted by students. Eventually, seniors Nathan Carpenter and Janessa Reece were crowned prom king and queen. "This is a million-dollar opportunity. It is a real honor," Carpenter said with excitement and deep appreciation. Reece said, "I can not believe this! I am overwhelmed! It feels cool and popular!"
About the Writer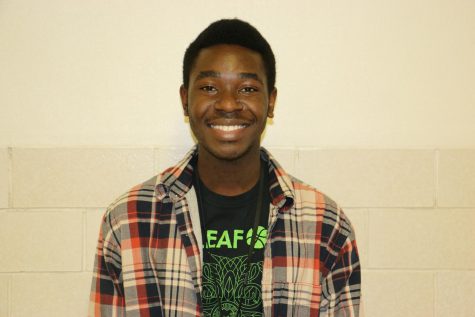 Brian Linus Ngatunga, Reporter
Brian Ngatunga is a senior this year. He is an international student from Tanzania. This is his first year on the Sargasso and the Red and Blue staffs....