Cross country teams race into the season
The KHS girls' and boys' cross country teams kicked off their seasons at the Northwestern Combination. The boys' finished the race in sixth place, with senior Collin Keesling leading the way for the Kats. Senior Julynne Spidell finished in second place to lead the LadyKats.
Boys' cross country head coach Jordan Ousley started coaching the team because of the positive influence his high school coach had on his life. He felt he should give back to the sport. Ousley has been coaching for 10 years. Ousley is hoping to see improvement from his runners throughout the season. 
"My goal for the team is to make improvements week to week and be a better team by the end of the season. We are hopeful that we can advance in the IHSAA tournament this October," he said.
Keesling is hoping to work hard and lead the team as they get closer to the sectional meet.
"My main goals this year are to make the state meet individually and lead the team at sectionals to a top five team finish so that we can collectively go to regionals as a team," Keesling said. He began practicing as soon as the season ended last year and has been training through weights as well as running.
The Kats ran in the Maverick Stampede last Saturday, finishing in seventh place. Keesling, who placed 12th overall, led the team. Freshman Kelton Serra placed 35th and set a 22 second personal record in the meet. The boys' cross country team travels to the Harrison Invite on Saturday.
The girls' cross country team in led by head coach Chad Salinas. Salinas, who was also influenced by a high school coach, sees the sport as a way to give athletes more than just experience running.
Cross country gives athletes the tools to get through tough times, achieve goals and be a better person," Salinas said.
This season, Salinas is hoping the team can finish in the top half of the NCC meet. He would also like to see the team do well in the IHSAA tournament.
"I would like to still be coaching on October 30 for the IHSAA state meet," he said. "I would also like to see multiple girls from our team qualify for the regional meet."
Spidell is working hard this season to meet her goals as well.
"One big goal that I have is to make it to state. Another goal that I have is to break 19:00 for the 5k," she said. "I'm looking forward to watching our team grow and to see how far I can go with my personal goals this season. I think our team has a lot of potential with the group that we have, and everyone comes to practice and works hard everyday.
Salinas agrees with Spidell and believes these goals are achievable because of the runners on this year's team.
"We have a great group of young ladies who are focused on improving and giving everything that they have each day to be the best version of themselves. I enjoy watching our runners accomplish goals that they didn't believe were possible, and seeing their self-confidence grow," he said.
The LadyKats placed fifth at the Maverick Stampede with Spidell running to a second place finish. Junior Emma Nelson knocked a minute and 34 seconds off her season best time at the meet. The team travels to Harrison this Saturday.
About the Writer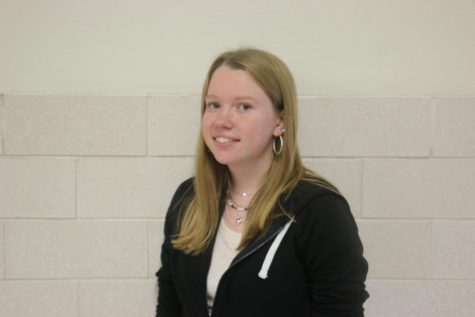 Jasmine Hale, Reporter
Jasmine is a 16-year-old junior this year. Working at Coffee Junkiez, she enjoys listening to music as well as spending time with family and friends. She...