Get ready for spring break!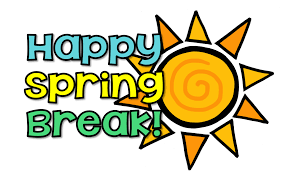 Spring break is just around the corner! The last day before break is Friday. School will resume Monday, April 10.
Many students already have plans made for break. Ryn Hahn is a senior this year who plans on going on a family cruise over spring break. Krislyn Horton is a junior who is taking a trip to Florida. 
Even if you aren't going out of town over break, there are still plenty of fun things to do around town. Below is a list of events and places to check out over break as well as general ideas on what to do to occupy your time:
Visit a local coffee shop
There are a few popular coffee shops downtown that many people, including myself, enjoy going to. A local favorite is Mojoe's. Whether it's for the coffee, pottery, open mic nights, or just for a calm environment to work, people love Mojoe's.
Talent hunt
A talent hunt is being held on April 8th and is open to all grade levels with any talent they would like to share. You can get more information on this local event by talking to the choir director Cherresa Lawson in room 301.
Discover a new hobby
Reading: maybe you want to try reading for the first time or want to get back into it. Stop by the library downtown and browse through some books. 
Skateboarding: skateboarding has recently become a popular activity for Kokomo youth with the opening of the Foster Skate Park and Lokol Skate Shop. With proper equipment and precaution, try it out! There are plenty of people within the community who would be willing to teach you.
Pick up a new instrument 
Volunteer: many places around town are looking for volunteers to help with activities or just be another friendly face.
Humane Society 

Gilead House

The Mission

A nursing home 
These are just a few ideas of what you can do for this spring break. Whatever it is that you plan on doing, just be sure to stay safe and give yourself a break.