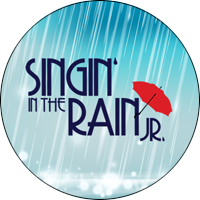 New to KHS this year, the musical theatre class is gearing up for their first performance. The class, co-taught by theatre director Randi Weeks and choir director Cherresa Lawson, will present Singin' in the Rain, Jr. on Nov. 30 and Dec. 2 at 7pm. 
"Set during the Roaring 20's, Singin' in the Rain, Jr., is one of the most beloved film musicals of all time," Weeks said. 
The musical follows the story of Hollywood silent film stars Don Lockwood, played by senior Sam VerLee, and Lina Lamont, played by senior Ava Caudill. The pair gets caught up in their studio's efforts to go from silent pictures to "talkies." Senior Talon Hawkins plays Lockwood's best friend Cosmo Brown. Senior Emma Fowler plays Kathy Seldon, who Lockwood eventually falls for, while senior Mekhi Pena plays the studio producer and sophomore Brielle Stevens plays the director. 
"These funny situations, entertaining dance numbers, and classic songs will leave audience's thinking fondly about the golden age of movie musicals as they "walk down the lane" with the cast of the show," Weeks said. 
Story continues below advertisement
Just like any show, producing this musical has come with a variety of challenges. The greatest challenge is the length of the rehearsals. Having only 45 minutes of class time each day means that they cannot rehearse the entire show at one time. The cast has added some after school rehearsals as well. 
"Learning to be efficient and rehearsing in small chunks has been most difficult.  There is not time to run the whole show and not much time to run sections multiple times," Weeks said.
Despite the difficulties, the class has enjoyed preparing for the musical over the course of the semester. 
"It just brings me so much joy. I truly could not ask for a better director and cast to do this show with," Caudill said. 
The KHS musical theatre class will present Singin' in the Rain, Jr. Nov. 30 and Dec. 2 at 7pm in the auditorium. Student tickets are $8 and will be available at the door.