Girls' golf season comes to an end
Sophomore Elizabeth Lytle advanced to the regional match after scoring an 83 at the sectional meet.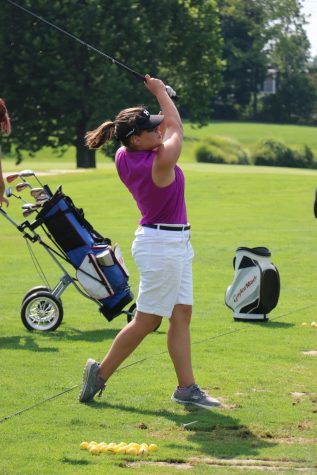 With all of the changes happening this school year due to Covid-19, the girls' golf team still made the best of the situation to compete and have fun. Due to Covid, they couldn't take out the flagstick at each hole and they couldn't trade cards at the beginning of each match. Sophomore Elizabeth Lytle led the Lady Kats this year. Lytle was the low medalist in six of the team's nine 9-hole matches this season. Lytle was the lone Lady Kat golfer to advance to the regional competition. 
Lytle started playing golf seriously around four or five years ago, and she was in the sixth grade when she started playing matches. Then as time went on she continued to get better and better, and to her the sport became really enjoyable. One of the best parts of playing golf is the teammates you get to grow with.
"My teammates are wonderful. All the girls get along great and we have fun on the bus rides to and from matches," Lytle said. "They are my family and they are people I trust. I can go to any of them if I am having any issues. They are very reliable and very good listeners. The coaches are great too! I couldn't wish for a better group of girls to play golf with."
Layla Andrysiak agrees with Lytle. Because of everything happening with new rules and regulations, Andrysiak is glad they got to have a golf season at all. 
"I am very thankful that we got to have a season with all this craziness going on. We are a close group and we always want that group to grow," she said. 
This season was a rough one for senior Molly Mavrick. Mavrick was out for the majority of it with an injury. Because of this,  they entered most tournaments as individuals. The golfers put in a lot of work to continuously improve. 
"Our practices consisted of starting with putting and moving onto practicing by playing holes. We practice for an hour and a half to two hours. My teammates are my friends, they are people that I have grown throughout the season with and been able to develop relationships with," Maverick said. "Although the season was rough, I will miss playing on the team and experiencing the long days, even if they ended in crying."